Welcome and thank you for visiting US Mortgage Lenders webpage. We are local FORT MYERS Florida mortgage lenders. We are available to answer any questions you might have 24/7.

FHA MORTGAGE LOANS HAVE MINIMAL DOWNPAYMENT AND CLOSING FEES:
• Fort Myers FL Down payment only 3.5% of the purchase price.
• Gifts from family or Grants for down payment assistance and closing costs OK!
• Seller can credit buyers up to 6% of sales price towards buyer's costs.
• No reserves or future payments in account required.
• FHA regulated closing costs.
FHA MORTGAGE LOANS ARE EASY TO QUALIFY FOR:
• Purchase a Fort Myers Florida home 12 months after a chapter 13 Bankruptcy
• Purchase a Fort Myers Florida 24 months after a chapter 7 Bankruptcy.
• FHA will allow a FHA mortgage 3 years after a Foreclosure.
• Minimum FICO credit score of 580 required for 96.5% financing.
• Fort Myers Bad credit Florida FHA mortgage approvals minimum FICO credit score of 500 required for 90 FHA financing.
• No Credit Score Florida mortgage loans & No Trade Line Florida FHA home loans.
FHA ALLOWS HIGHER DEBT TO INCOME & QUALIFYING:
• FHA allows higher debt ratio's than any other Florida home loan programs.
• Less than two years on the same job is OK!
• Self-employed buyers can also qualify for FHA.
• Check Florida FHA Mortgage Articles for more information.
 WHAT IS FHA'S MINIMUM CREDIT SCORE?
The FHA mortgage applicant is not eligible for FHA-insured financing if the Minimum Credit Score  is less than 500. If the Minimum FHA Mortgage Credit Score is between 500 and 579, the FHA mortgage applicant is limited to a maximum loan-to-value (LTV) of 90 percent. If the FHA Mortgage Minimum Credit Score is at or above 580 the FHA mortgage applicant is eligible for 95.6% maximum financing. FHA Mortgage Lenders must downgrade and manually underwrite a mortgage that received an Accept recommendation if only the non-occupying co-FHA mortgage applicant has a credit score.  Minimum FHA Mortgage Credit Score with non-traditional or insufficient credit histories are eligible for maximum financing.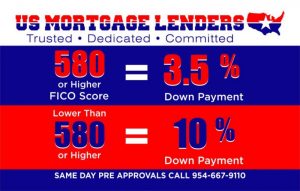 CATEGORY: FHA MORTGAGE GUIDELINES
FHA mortgages lenders offer many advantages and protections that only come with an FHA mortgage:  Lower Down Payment: FHA loans have a low 3.5% down payment and that money can come from a family member, employer or charitable organization as a gift. Conventional mortgage lenders do not allow this. Easier to Qualify: Due to the…