FHA HOME LOANS MIAMI FL – MIAMI FL FHA MORTGAGE LENDERS — NORTH MIAMI FL FHA MORTGAGE LENDERS – MIAMI FL FHA MORTGAGE LENDERS – MIAMI FL FHA MORTGAGE LENDERS – MIN500+MIAMI FLORIDA MORTGAGE LENDERS
KEY POINTS FOR MIAMI FLORIDA FHA MORTGAGE APPLICANTS
FHA MORTGAGE LOANS HAVE MINIMAL DOWNPAYMENT AND CLOSING FEES:
Down payment only 3.5% of the purchase price.
Gifts from family or Grants for down payment assistance and closing costsOK!
Seller can credit buyers up to 6% of sales price towards buyers costs.

No reserves or future payments in account required.

FHA regulated closing costs.

FHA MORTGAGE LOANS ARE EASY TO QUALIFY:
FHA LENDERS ALLOW HIGHER DEBT TO INCOME & EASIER JOB QUALIFYING:
FHA allows higher debt ratio's than any other Florida home loan programs.

Less than two years on the same job is OK!

Self-employed buyers can also qualify for FHA.
If the Minimum FHA Mortgage Credit Score is at or above 580+ the FHA mortgage applicant is eligible for 96.5% Financing. Our Minimum Credit Score for an FHA mortgage is 500. If the Minimum FHA Mortgage Credit Score is between 500 and 579, the FHA mortgage applicant is limited to a maximum loan-to-value (LTV) of 90 percent of the loan amount..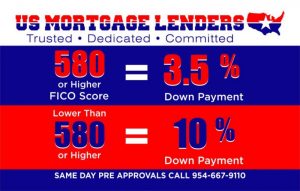 4 C'S LENDER REQUIRMENTS CHECKLIST
1-Collateral/FHA Approved Property Types Include- Single family homes, Townhomes, villas, 1-4 family multi Unit Homes, and  FHA Approved Condos!
2-FHA Minimum Cash/Down payment Or Equity– FHA 3.5% Down Payment Cash or 20% Equity/ 80% LTV for cash out or 96.75% Rate term Refinance- Verity the borrower has the down payment from acceptable source on a purchase or enough equity to cover payoffs and closing cost to include taxes insurance on a refinance.
3-FHA Minimum Credit 500+ Credit Score – Does the borrower have the minimum credit score to meet the loan program? Does the borrower have collections that have to be paid off that will reflect the cash needed to close? Do student loans that are deferred need to be added to the monthly obligations? Does the lender require %1 cumulative student loans or 5% of the cumulative collections accounts over +$2000 added back to the debt to income ratios.
4-Capacity-56.9% FHA Maximum-  Does the FHA mortgage applicants debt to income ratio meet the loan program requirements or no more debt than 56.9% of the total housing + all monthly payments reflected on the FHA mortgage applicants credit report. 
CATEGORY: FHA MORTGAGE GUIDELINES
FHA mortgages lenders offer many advantages and protections that only come with an FHA mortgage:  Lower Down Payment: FHA loans have a low 3.5% down payment and that money can come from a family member, employer or charitable organization as a gift. Conventional mortgage lenders do not allow this. Easier to Qualify: Due to the…
FHA HOME LOANS MIAMI FL – NORTH MIAMI BEACH FL FHA MORTGAGE LENDERS — NORTH MIAMI FL FHA MORTGAGE LENDERS
MIAMI FL FHA MORTGAGE LENDERS – MIAMI FL FHA MORTGAGE LENDERS –