Self-Employed Bank Statement Florida Mortgage Lenders When calculating the qualifying income for a self-employed borrower, it is important to note that business income reported on Read More »
24 Months Bank Statement Florida Mortgage Lenders Personal Statements: Qualify using 24 avg bank statements. We use 100% of the deposits as income. Business Statements: Read More »
12 Months Bank Statement Florida Mortgage Lenders Business Statements: Qualify 12 months' Avg Deposits. Up to 90% are subject to a Business bank statement questionnaire. Read More »
When determining the appropriate qualifying income for a Miami FL self-employed borrower, it is important to note that business income reported on an individual IRS Form 1040 may not necessarily represent income that has actually been distributed. No Tax return bank statement Miami Florida mortgage lenders use bank statements along with a questionnaire to determine the amount of income that can be relied on by the borrower in qualifying for their personal mortgage obligation. When underwriting these borrowers, it is important to review business income distributions on the bank statements to determine the viability of the underlying business. This analysis includes assessing the stability of business income and the ability of the business to continue to generate sufficient income to enable self-employed mortgage applicants to meet their monthly payment obligations.
All Bank statement mortgage lenders require a questionnaire so that they can estimate an expense ratio.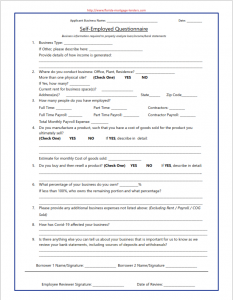 24 Months Bank Statement Florida Mortgage Lenders Document Checklist
Single-family homes /Townhomes / Villas
Condos / Condominiums
Condotels
Multifamily Up To 8 Units
Use Personal Bank Statements: You can qualify using 12 or 24 months bank statements and use Up To 100 percent of deposits if they came from a Business Bank Account.
Use Business Bank Statements: You can qualify with 12 or 24 months of bank statements and count up to 90% percent of the deposits. A self-employment questionnaire is usually required to determine your income. For example, if you are a 1099 realtor with no money for rent, or cost you can use up to 90% of your income to qualify.
Use 1099s For Income: Some lenders will allow 2 years of 1099s and 2 months of recent bank statements along with a bank statement questionnaire to understand your expenses.
Use Lease Agreements: As long as the lease agreements are enough to cover the mortgage payments lenders will lend up to 80% loan to value with no income verification needed.
Miami FL Self-Employed Mortgage Lenders  – Bank Statement Only Miami FL Mortgage Lenders –

No Tax Return Miami Florida Mortgage Lenders – Miami Florida Mortgage Lenders Using No Tax Returns – Miami FL Self Employed business owners and Wage Earners can both qualify- Joint Miami FL Self Employed Mortgage Applicants with 1 wage earner and 1 self-employed business owner can verify income separately, with 2 years self-employment history Miami FL Self Employed Mortgage Applicant utilizing 12 or 24 months business or personal bank statements and the wage earner providing paystubs/W-2s we can use both incomes to qualify.
Category: NO Tax Return Miami Florida Mortgage
No Income Verification Florida Mortgage Lenders  Stated Income Florida Mortgage Lenders No Income  Florida Mortgage Lenders Requirements Of Florida No Income Mortgage Lenders Primary Residence