| | | |
| --- | --- | --- |
| Minimum 3.5% Down with 580+ | Minimum 10% Down With 500+ | 6% Seller Paid Closing Cost |
| Down payment Assistance OK! | Gift or Down payment = OK | Higher Debt To Income Up to 56% |
| Co Borrowers = OK! | Streamline Refinance!  | Manual Underwrite = YES! |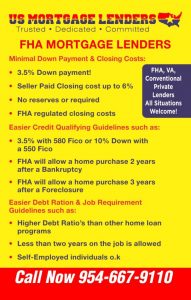 GEORGIA HOME BUYERS ASK EVERY DAY,
Down payment only 3.5% of the purchase price.
Gifts from family or FHA Grants for down payment assistance and closing costs OK!
Sellers can credit the buyer's up to 6% of sales price towards buyers costs and pre-paid.

No reserves or future payments in account required.

FHA regulated closing costs.

Read more about buying a home with an FHA mortgage Bad Credit –No Credit – Investment –Second Home –Multi Family – 
GEORGIA FHA MORTGAGE LOANS ARE  EASIER BECAUSE:
12 months after a chapter 13 Bankruptcy FHA mortgage Lender approvals!
24 months after a chapter 7 Bankruptcy FHA mortgage Lender approvals!
3 years after a Foreclosure FHA mortgage Lender approvals!
No Credit Score FHA mortgage Lender approvals!
580 required for 96.5% financing or 3.5% down payment FHA mortgage Lender approvals.
500 required for 90% financing or 10% down payment FHA mortgage Lender approvals.
BAD CREDIT GEORGIA with minimum 500 FICO credit score with 10% Down Payment FHA. For FHA mortgage applicants with credit scores between 500 and 579 must make down payments of at least 10% down!
Read more about FHA Qualifying Qualification Summary – Manual Underwrite – Collections-Judgement's – Bankruptcy or Foreclosure – Compensating Factors –
GEORGIA FHA MORTGAGE DEBT TO INCOME & EASIER JOB QUALIFYING
Whether you're a first time Georgia home buyer, moving to a new home, or want to FHA refinance your existing conventional or GEORGIA mortgage, we will show you how to purchase or refinance a home with flexible guidelines. Good Credit – Bad Credit – No Credit + No Problem + We work with everyone towards home ownership!
GEORGIA FHA MORTGAGE TOPICS OF INTEREST
When you decide to apply for a Georgia FHA mortgage you need to know you're dealing with experienced full-time mortgage lending professionals who know GA real estate. We offer a huge assortment of Georgia FHA, VA, Conventional & Private Georgia mortgage programs built around Georgia home buyers and homeowners.
Whether you're buying a first Georgia home using our great FHA mortgage program or refinancing a home you already own using traditional FHA mortgage financing, nothing helps more than having a seasoned Georgia FHA mortgage lender working hard answer all your GEORGIA FHA mortgage questions!
GA Home Buyer Initial Questions
What is the minimum down payment for FHA Mortgage? Currently, 3.5% can from family gift or grant.
Can my parents or other relatives give me money? Yes, provided the money is considered a gift and your relative sign and date the proper gift letter documentation.
Is there a maximum FHA Mortgage Loan Amount? Yes, see maximum loan limits below based on the Georgia county.
What is an FHA Mortgage loan? The FHA is a division of the Department of (HUD) Housing and Urban Development. An FHA mortgage loan is a mortgage that is insured by the Federal Housing Administration (FHA) and funded by private Georgia FHA approved mortgage lenders.
Are FHA mortgage for Georgia first time home buyers only? NO, FHA mortgage loans are NOT only for Georgia first–time buyers only. FHA loans can be used by first time buyers and repeat buyers alike. The FHA mortgage is often marketed as a product for "first–time buyers" because of its low down payment and flexible qualifying requirements. FHA mortgage applicants can purchase an FHA approved investment property using and FHA mortgage loan.
How Does The FHA Mortgage Insurance Work? Anyone who takes out an FHA mortgage finances the  insurance into the FHA mortgage loan amount. This "Up Front Mortgage Insurance " cost is called the "UFMIP". The upfront mortgage insurance premium paid on all FHA mortgages is paid to the government and use the funding fee money to reimburse Georgia FHA Mortgage lenders who were forced to foreclose on mortgages that were financed to bad credit mortgage applicants. Think of the funding fee as the foreclosure "insurance fund" for the FHA Georgia Mortgage Lenders. In addition to the upfront funding fee, the borrower is also required to pay a small monthly fee to the FHA as part of their monthly mortgage payment. The monthly fee is called monthly MIP or mortgage insurance premium.
Do I have to be a Georgia first time mortgage buyer to use the FHA mortgage? No you do not have to be a first time Georgia home buyer but the FHA mortgage is only for a Primary Georgia home purchase only.
Can I roll all the closing costs into the FHA mortgage? You are permitted to finance the upfront FHA funding fee only. FHA mortgage closing costs can be paid by the seller up to 6% and must be negotiated up front in your purchase and sale agreement.
Can I get an FHA Mortgage after a Foreclosure or Bankruptcy? YES! you can qualify for an FHA mortgage 3 years after the title was transferred out of your name.A borrower may also still qualify for an FHA insured loan after declaring Chapter 13 bankruptcy, if at least 1 year of the bankruptcy payout period has passed and the borrower has been making satisfactory payments. In these cases, the FHA mortgage applicant must also request permission from the court to enter into a new FHA mortgage loan. declaring Chapter 7 bankruptcy, if at least 2 years have passed since the bankruptcy discharge date. FHA mortgage applicants must also have re-established good credit or have opted to incur no new debts (this means you specifically chose to take out no new loans, credit cards, etc.)
Georgia FHA Mortgage Programs:
All Georgia Property Types Including:
Single family Homes

Town House- check for lot and/or block legal descriptions.

Villas- check for lot and/or block legal descriptions.

FHA Approved condominium – Search GEORGIA FHA Approved Condos
FHA Mortgage Loans Make It Easier to Buyer A GA Home
The FHA mortgage is so popular is because Georgia mortgage applicants  use them are able to take advantage of benefits and protections unavailable with any other mortgage loan program. Loans through the FHA are insured by the government, so the Georgia mortgage lenders that approve these loans are more lenient. The advantages are outweigh any other mortgage program and include and include the following:
Lower Cost & Fees- In addition to lower interest rates, FHA borrowers enjoy lower costs on other fees like closing costs, FHA mortgage insurance and  govt regulated closing cost.
Easier to Qualify- While most mortgage loans prohibit applicants with bad credit history and low credit scores, the FHA mortgage loans available with lower requirements so its easier for you to qualify.
Lowest  Interest Rates- You've heard the horror stories of subprime borrowers who couldn't keep up with their mortgage interest rates. Well, FHA loans usually offer lower interest rates to help homeowners afford housing payments.
Bankruptcy / Foreclosure- Even If you've filed for bankruptcy or suffered a foreclosure in the past few years doesn't mean you're excluded from qualifying for an FHA loan. As long as you meet other requirements that satisfy the FHA, such as re-establishment of good credit, solid payment history, etc., you can still qualify.
No Credit Score/ No Trade Lines OK! – The FHA usually requires two lines of credit for qualifying applicants. If you don't have a sufficient credit history, you can try to qualify through a substitute form.
For many Georgia FHA mortgage applicants, using an FHA mortgage can really make the difference between owning your dream house affordability and getting out of the never ending rental trap. The FHA mortgage provides a wealth of benefits for Georgia mortgage applicants that qualify, so please make full use of them.
We provide free credit counseling to and work with everyone to get PRE APPROVED!
| | | | |
| --- | --- | --- | --- |
| County Name | Limits | Media Price | MSA Name |
| APPLING | 271,050 | 45,000 | NON-METRO |
| ATKINSON | 271,050 | 25,000 | NON-METRO |
| BACON | 271,050 | 36,000 | NON-METRO |
| BAKER | 271,050 | 137,000 | ALBANY, GA |
| BALDWIN | 271,050 | 108,000 | MILLEDGEVILLE, GA |
| BANKS | 271,050 | 80,000 | NON-METRO |
| BARROW | 342,700 | 297,000 | ATLANTA-SANDY SPRINGS-ROSWELL, GA |
| BARTOW | 342,700 | 297,000 | ATLANTA-SANDY SPRINGS-ROSWELL, GA |
| BEN HILL | 271,050 | 50,000 | FITZGERALD, GA |
| BERRIEN | 271,050 | 53,000 | NON-METRO |
| BIBB | 271,050 | 102,000 | MACON, GA |
| BLECKLEY | 271,050 | 61,000 | NON-METRO |
| BRANTLEY | 271,050 | 194,000 | BRUNSWICK, GA |
| BROOKS | 271,050 | 128,000 | VALDOSTA, GA |
| BRYAN | 271,050 | 210,000 | SAVANNAH, GA |
| BULLOCH | 271,050 | 122,000 | STATESBORO, GA |
| BURKE | 271,050 | 185,000 | AUGUSTA-RICHMOND , GA-SC |
| BUTTS | 342,700 | 297,000 | ATLANTA-SANDY SPRINGS-ROSWELL, GA |
| CALHOUN | 271,050 | 45,000 | NON-METRO |
| CAMDEN | 271,050 | 118,000 | ST. MARYS, GA |
| CANDLER | 271,050 | 61,000 | NON-METRO |
| CARROLL | 342,700 | 297,000 | ATLANTA-SANDY SPRINGS-ROSWELL, GA |
| CATOOSA | 271,050 | 163,000 | CHATTANOOGA, TN-GA |
| CHARLTON | 271,050 | 65,000 | NON-METRO |
| CHATHAM | 271,050 | 210,000 | SAVANNAH, GA |
| CHATTAHOOCHEE | 289,800 | 171,000 | COLUMBUS, GA-AL |
| CHATTOOGA | 271,050 | 51,000 | SUMMERVILLE, GA |
| CHEROKEE | 342,700 | 297,000 | ATLANTA-SANDY SPRINGS-ROSWELL, GA |
| CLARKE | 320,850 | 260,000 | ATHENS-CLARKE , GA |
| CLAY | 271,050 | 54,000 | NON-METRO |
| CLAYTON | 342,700 | 297,000 | ATLANTA-SANDY SPRINGS-ROSWELL, GA |
| CLINCH | 271,050 | 59,000 | NON-METRO |
| COBB | 342,700 | 297,000 | ATLANTA-SANDY SPRINGS-ROSWELL, GA |
| COFFEE | 271,050 | 63,000 | DOUGLAS, GA |
| COLQUITT | 271,050 | 58,000 | MOULTRIE, GA |
| COLUMBIA | 271,050 | 185,000 | AUGUSTA-RICHMOND , GA-SC |
| COOK | 271,050 | 51,000 | NON-METRO |
| COWETA | 342,700 | 297,000 | ATLANTA-SANDY SPRINGS-ROSWELL, GA |
| CRAWFORD | 271,050 | 102,000 | MACON, GA |
| CRISP | 271,050 | 80,000 | CORDELE, GA |
| DADE | 271,050 | 163,000 | CHATTANOOGA, TN-GA |
| DAWSON | 342,700 | 297,000 | ATLANTA-SANDY SPRINGS-ROSWELL, GA |
| DECATUR | 271,050 | 80,000 | BAINBRIDGE, GA |
| DEKALB | 342,700 | 297,000 | ATLANTA-SANDY SPRINGS-ROSWELL, GA |
| DODGE | 271,050 | 40,000 | NON-METRO |
| DOOLY | 271,050 | 36,000 | NON-METRO |
| DOUGHERTY | 271,050 | 137,000 | ALBANY, GA |
| DOUGLAS | 342,700 | 297,000 | ATLANTA-SANDY SPRINGS-ROSWELL, GA |
| EARLY | 271,050 | 50,000 | NON-METRO |
| ECHOLS | 271,050 | 128,000 | VALDOSTA, GA |
| EFFINGHAM | 271,050 | 210,000 | SAVANNAH, GA |
| ELBERT | 271,050 | 50,000 | NON-METRO |
| EMANUEL | 271,050 | 34,000 | NON-METRO |
| EVANS | 271,050 | 38,000 | NON-METRO |
| FANNIN | 271,050 | 159,000 | NON-METRO |
| FAYETTE | 342,700 | 297,000 | ATLANTA-SANDY SPRINGS-ROSWELL, GA |
| FLOYD | 271,050 | 92,000 | ROME, GA |
| FORSYTH | 342,700 | 297,000 | ATLANTA-SANDY SPRINGS-ROSWELL, GA |
| FRANKLIN | 271,050 | 80,000 | NON-METRO |
| FULTON | 342,700 | 297,000 | ATLANTA-SANDY SPRINGS-ROSWELL, GA |
| GILMER | 271,050 | 115,000 | NON-METRO |
| GLASCOCK | 271,050 | 30,000 | NON-METRO |
| GLYNN | 271,050 | 194,000 | BRUNSWICK, GA |
| GORDON | 271,050 | 96,000 | CALHOUN, GA |
| GRADY | 271,050 | 60,000 | NON-METRO |
| GREENE | 515,200 | 199,000 | NON-METRO |
| GWINNETT | 342,700 | 297,000 | ATLANTA-SANDY SPRINGS-ROSWELL, GA |
| HABERSHAM | 271,050 | 119,000 | CORNELIA, GA |
| HALL | 271,050 | 170,000 | GAINESVILLE, GA |
| HANCOCK | 271,050 | 108,000 | MILLEDGEVILLE, GA |
| HARALSON | 342,700 | 297,000 | ATLANTA-SANDY SPRINGS-ROSWELL, GA |
| HARRIS | 289,800 | 171,000 | COLUMBUS, GA-AL |
| HART | 271,050 | 113,000 | NON-METRO |
| HEARD | 342,700 | 297,000 | ATLANTA-SANDY SPRINGS-ROSWELL, GA |
| HENRY | 342,700 | 297,000 | ATLANTA-SANDY SPRINGS-ROSWELL, GA |
| HOUSTON | 271,050 | 126,000 | WARNER ROBINS, GA |
| IRWIN | 271,050 | 52,000 | NON-METRO |
| JACKSON | 271,050 | 153,000 | JEFFERSON, GA |
| JASPER | 342,700 | 297,000 | ATLANTA-SANDY SPRINGS-ROSWELL, GA |
| JEFF DAVIS | 271,050 | 40,000 | NON-METRO |
| JEFFERSON | 271,050 | 33,000 | NON-METRO |
| JENKINS | 271,050 | 37,000 | NON-METRO |
| JOHNSON | 271,050 | 60,000 | DUBLIN, GA |
| JONES | 271,050 | 102,000 | MACON, GA |
| LAMAR | 342,700 | 297,000 | ATLANTA-SANDY SPRINGS-ROSWELL, GA |
| LANIER | 271,050 | 128,000 | VALDOSTA, GA |
| LAURENS | 271,050 | 60,000 | DUBLIN, GA |
| LEE | 271,050 | 137,000 | ALBANY, GA |
| LIBERTY | 271,050 | 138,000 | HINESVILLE, GA |
| LINCOLN | 271,050 | 185,000 | AUGUSTA-RICHMOND , GA-SC |
| LONG | 271,050 | 138,000 | HINESVILLE, GA |
| LOWNDES | 271,050 | 128,000 | VALDOSTA, GA |
| LUMPKIN | 271,050 | 140,000 | NON-METRO |
| MACON | 271,050 | 28,000 | NON-METRO |
| MADISON | 320,850 | 260,000 | ATHENS-CLARKE , GA |
| MARION | 289,800 | 171,000 | COLUMBUS, GA-AL |
| MCDUFFIE | 271,050 | 185,000 | AUGUSTA-RICHMOND , GA-SC |
| MCINTOSH | 271,050 | 194,000 | BRUNSWICK, GA |
| MERIWETHER | 342,700 | 297,000 | ATLANTA-SANDY SPRINGS-ROSWELL, GA |
| MILLER | 271,050 | 55,000 | NON-METRO |
| MITCHELL | 271,050 | 40,000 | NON-METRO |
| MONROE | 271,050 | 102,000 | MACON, GA |
| MONTGOMERY | 271,050 | 65,000 | VIDALIA, GA |
| MORGAN | 342,700 | 297,000 | ATLANTA-SANDY SPRINGS-ROSWELL, GA |
| MURRAY | 271,050 | 102,000 | DALTON, GA |
| MUSCOGEE | 289,800 | 171,000 | COLUMBUS, GA-AL |
| NEWTON | 342,700 | 297,000 | ATLANTA-SANDY SPRINGS-ROSWELL, GA |
| OCONEE | 320,850 | 260,000 | ATHENS-CLARKE , GA |
| OGLETHORPE | 320,850 | 260,000 | ATHENS-CLARKE , GA |
| PAULDING | 342,700 | 297,000 | ATLANTA-SANDY SPRINGS-ROSWELL, GA |
| PEACH | 271,050 | 126,000 | WARNER ROBINS, GA |
| PICKENS | 342,700 | 297,000 | ATLANTA-SANDY SPRINGS-ROSWELL, GA |
| PIERCE | 271,050 | 50,000 | WAYCROSS, GA |
| PIKE | 342,700 | 297,000 | ATLANTA-SANDY SPRINGS-ROSWELL, GA |
| POLK | 271,050 | 75,000 | CEDARTOWN, GA |
| PULASKI | 271,050 | 126,000 | WARNER ROBINS, GA |
| PUTNAM | 271,050 | 161,000 | NON-METRO |
| QUITMAN | 271,050 | 43,000 | NON-METRO |
| RABUN | 271,050 | 115,000 | NON-METRO |
| RANDOLPH | 271,050 | 25,000 | NON-METRO |
| RICHMOND | 271,050 | 185,000 | AUGUSTA-RICHMOND , GA-SC |
| ROCKDALE | 342,700 | 297,000 | ATLANTA-SANDY SPRINGS-ROSWELL, GA |
| SCHLEY | 271,050 | 60,000 | AMERICUS, GA |
| SCREVEN | 271,050 | 40,000 | NON-METRO |
| SEMINOLE | 271,050 | 41,000 | NON-METRO |
| SPALDING | 342,700 | 297,000 | ATLANTA-SANDY SPRINGS-ROSWELL, GA |
| STEPHENS | 271,050 | 73,000 | TOCCOA, GA |
| STEWART | 271,050 | 41,000 | NON-METRO |
| SUMTER | 271,050 | 60,000 | AMERICUS, GA |
| TALBOT | 271,050 | 98,000 | NON-METRO |
| TALIAFERRO | 271,050 | 40,000 | NON-METRO |
| TATTNALL | 271,050 | 50,000 | NON-METRO |
| TAYLOR | 271,050 | 50,000 | NON-METRO |
| TELFAIR | 271,050 | 28,000 | NON-METRO |
| TERRELL | 271,050 | 137,000 | ALBANY, GA |
| THOMAS | 271,050 | 118,000 | THOMASVILLE, GA |
| TIFT | 271,050 | 119,000 | TIFTON, GA |
| TOOMBS | 271,050 | 65,000 | VIDALIA, GA |
| TOWNS | 271,050 | 128,000 | NON-METRO |
| TREUTLEN | 271,050 | 30,000 | NON-METRO |
| TROUP | 271,050 | 114,000 | LAGRANGE, GA |
| TURNER | 271,050 | 50,000 | NON-METRO |
| TWIGGS | 271,050 | 102,000 | MACON, GA |
| UNION | 271,050 | 110,000 | NON-METRO |
| UPSON | 271,050 | 45,000 | THOMASTON, GA |
| WALKER | 271,050 | 163,000 | CHATTANOOGA, TN-GA |
| WALTON | 342,700 | 297,000 | ATLANTA-SANDY SPRINGS-ROSWELL, GA |
| WARE | 271,050 | 50,000 | WAYCROSS, GA |
| WARREN | 271,050 | 30,000 | NON-METRO |
| WASHINGTON | 271,050 | 30,000 | NON-METRO |
| WAYNE | 271,050 | 58,000 | JESUP, GA |
| WEBSTER | 271,050 | 19,000 | NON-METRO |
| WHEELER | 271,050 | 41,000 | NON-METRO |
| WHITE | 271,050 | 120,000 | NON-METRO |
| WHITFIELD | 271,050 | 102,000 | DALTON, GA |
| WILCOX | 271,050 | 32,000 | NON-METRO |
| WILKES | 271,050 | 41,000 | NON-METRO |
| WILKINSON | 271,050 | 34,000 | NON-METRO |
| WORTH | 271,050 | 137,000 | ALBANY, GA |
GEORGIA FHA MORTGAGE LENDERS